The best choice to protect your personal privacy!
2-in-1 Data Protection Roller makes all printed texts illegible with encrypted pattern, perfectly hiding any private information in a neat, convenient way. The ink is highly waterproof and alcohol-proof which dries quickly after use and not easy to scratch/smudge. A built-in blade knife makes this roller perfect for unboxing and packaging. Simply press the side button to use.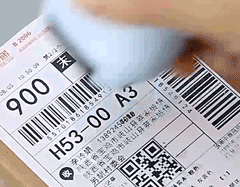 FEATURES: 
Permanent Identity Theft Protection




Prevent information leakage

, effectively hiding any personal information on regular paper and envelopes like bank statements, express waybill, personal document, confidential document and many more. Meet your need to hide private information on various papers.
Wide Coverage Design




Perfect for covering large swaths

of private information in a quick. No need for repeated rolling to multiple passes to block your information, just roll gently to completely hide your private information with 0.98 inches wide dark ink.
Time Saving
Comes with quick-drying ink for efficient data masking.
Roller works well on most of regular paper, envelopes and many more. One swipe and the info are entirely covered, no need to go for a shredder.
Easy to Use
Pre-inked design so all you need to do is open the cover and start swiping. Also the compact size makes it easy to be carried around and used it anytime, anywhere.
Unlimited Refillable Ink Stamp
Ink can be refilled in the roller stamp side when ink runs out, about 2 drops each time. 
Multifunctional
Built with a practical sharp knife. Safe and convenient to cut tape or any packaging. 
SPECIFICATION:
PACKAGE INCLUDES:
Or
2 x Ink Refill