If you love spending time outdoors during winter, then you should have these ice cleats!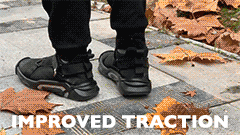 Anti Slip Ice Traction Cleats for your shoes can provide excellent stability and traction on all slippery surfaces, like snow, ice and mud. Whether you are trail running or walking your dog, these cleats are just what you need to keep your feet stable.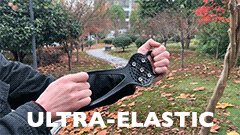 These stretch-to-fit cleats can work with all kinds of footwear, such as heels, hiking boots, sneakers, etc. They are made of superior silicone, which is strong, durable and lightweight. Your winter outdoor activities will be much funnier & safer with these cleats attached!
Enjoy your day without worrying about the weather condition!
Get Yours Now!
FEATURES:

Strong & Safe Grippers
The ice cleats features 5 spikes per foot, which can work extremely well to improve traction and stability on the ice. It can protect you from serious injuries due to slips and falls.
Durable & Stretchy Material
The cleats are made of TPE and have excellent toughness and elasticity than the other grippers. It won't tear or snap and can be used for long time.
Essentials For Outdoor Activities
Great for trail running, hiking, ice-fishing, snowball fight and more winter outdoor activities. It is lightweight and easy to carry around without taking up much space.
Fit All Shoes
Ice cleats are easily mounted to the shoes and work with all kinds of footwear, including hiking boots, heels, sneakers, etc.
SPECIFICATIONS:
Size: 25.5 x 9.2 cm (Unstretched)
Material: Silicone + Steel
Color: Black/Red/Green/Blue/Yellow
PACKAGE INCLUDES:
1 Pair x Anti Slip Ice Traction Cleats