Make your own cute puffy cat paw box with Cat Paw Keychain DIY Resin Mold Set!
A fun DIY craft project that you can do with your friends or family! Craft perfect chubby paws with this beginner-level demolding. It'll only take a second to pop your paws out from this high-quality, non-sticky silicone resin with exquisite, clear details!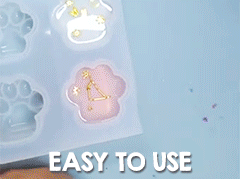 Get creative with it and add your personal touch! Customize your cat paw storage box with different resin pigments and filters to make it more appealing. Perfect handmade gifts that you can give for everyone.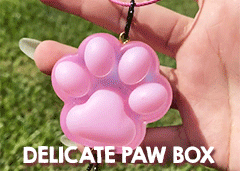 Make as many cat paws and store your little accessories with the finished product. Suitable for earrings, beads, buttons, charms, small jewels and more possibilities! You can now have cute little perky paws to display while keeping all your small stuff organized. 
Create your own stylish mini storage with Cat Paw Keychain DIY Resin Mold Set!   
FEATURES:
DIY Stylish Cat Paw Storage
Be as stylish as you want! Our product has clear details that can make your work more vivid. Customize yours with dried flowers, gold foils, sequins, glitters and different resin pigment powders to make your crafts more attractive.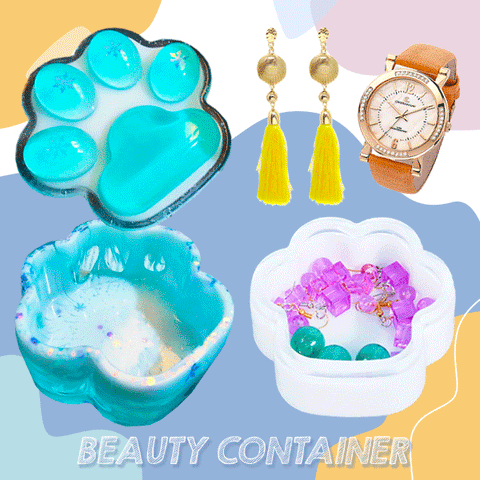 Easy to Use
Awesome DIY project that is

 

easy and quick

 

to make. Perfect even for

 

beginners! Just simply pour the required amount of

 

epoxy resin

 

to the mold until they are completely formed and take it out easily. Make as many cat paws as you like and use them for storing small stuff or even giving it as gifts!
Wide Application
Cute little cat paw shaped design with lid silicone mold. Suitable for DIY craft making and storing little things. Use it for your jewelry or other small stuff like beads, buttons, crinkets, charms and more possibilities!
Great Gifts
Perfect handmade gifts for everyone especially for those who love and adore cats, arts and jewelry. Give it to your friends, lover, family members and more!
Premium Material
Made of high-quality, non-sticky silicone material with high elasticity and durability. Safe and easy to use for everyone and it's also reusable, perfect for craft making. 
SPECIFICATIONS:
Top Mold: 9.2 x 8.7 cm
Base Mold: 9.6 x 9 cm
PRODUCT INCLUDES:
Mold Set:
1 x Paw Top Mold
1 x Paw Base Mold
Full Set: 

1 x Resin Color (Blue/Purple/Pink)
1 x Paw Top Mold


1 x Paw Base Mold


1 x Resin Color
1 x Resin Glue