No more flour exploding or STICK HANDS in the kitchen!
Simply pour ingredients into this kneading dough bag, use the string to tie the bag tight & start a messy-free kneading! Made of food-grade silicone, so it can always keep your hands clean from sticky dough.
Can be used for mixing flour, kneading dough, squeezing fruit/ vegetable juice, making purees & even freshly preserve food as a storage bag!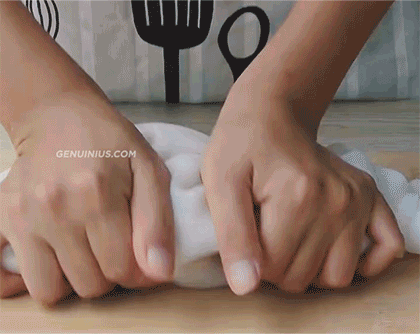 Features:
Keep your Hands Clean from sticky dough or juicy ingredients

Made of high quality food grade silicone with safe, durable & non-stick feature

High Temperature-resistant - Can be used within -40 °C~230 °C

Multiple Functions - For mixing ingredients, kneading dough,  marinating meat, freezing, boiling, microwaving & even as a sealed fresh-keeping bag to storage food and meat

Easy to Use - Just add ingredients such as flour, water, eggs mix all together, tie up the bag and start kneading!
High Capacity - Our kneading bag can hold up to 4.4 lbs ( 3000 ml / 105 Oz) of storage capacity. You can make bread or pastries one-time for the whole family!
Reusable, Dishwasher Safe & Easy to Clean
Product details:
Material: Food grade silicone

Size: 41cm x 28cm (L), 32.5cm x 23cm (S)

Capacity: 3000ml (L), 1500ml (S)
Package includes: