Create your DIY wood grain crafting with Wood Graining Tool Set!

The package comes with two sizes of tools,
provides you several ways to paint
your customized faux wood grain effect. Comes with arched design which helps paint delicate wood patterns on either smooth or rough surface. Works on a
large variety of surfaces
including wall, wood, fabric, canvas, paper and more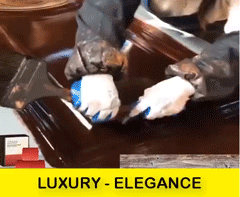 Fun and easy way to decorate your home wall
, table, stairs, wardrobe, anywhere!
Save your money
 from buying new wooden furniture, 
make faux wood DIY
 with your 
friends & families!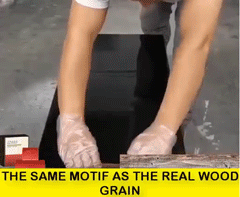 FEATURES:
DIY Beautiful Wood Patterns
Can draw beautiful clear wood patterns on walls, window frames, doors, and anywhere you want to decorate. DIY your home style!

Highly Simulated Wallpaper
Paint beautiful wood grain pattern on the wall, making the walls look like natural real wood.

Low Cost
It is low costing compare to high-end expensive wooden furniture. Save your money!

Arched Design
The arched-shaped tool is ergonomic to paint without fatigue. Wide arch also speeds up the process of painting large pieces of furniture.
Durable
Designed with rugged and soft rubber material, not easy to be worn out.

Wide Application
Can be used to decorate many surfaces: wall, wood, fabric, canvas, paper. It allows you to decorate your house as you like.

SPECIFICATIONS:
Material: Rubber + Plastic 
Size: 
3-inch: 7.5 × 6.5cm
6-inch: 15 ×

 

6.5

cm

HOW TO USE:

PACKAGE INCLUDES:
1 x Wood Graining Tool Set
- 1 x 3-inch Wood Graining Tool
- 1 x 6-inch Wood Graining Tool